Reasons that Make Upholstery Cleaning Important
The upholstery in any home, office or business-area is a décor item that adds elegance to the place. Hence, having your upholstery cleaned via professionals is of significance. Listed below are some reasons that define why upholstery cleaning is important:
Upholstery with dirt, dust, grime and allergens can trigger skin allergies, respiratory conditions, skin infections etc.
Professional upholstery cleaning can enhance its lifespan and its quality.
Upholstery cleaning can make the surroundings look better, more pleasing and welcoming.
Regular health issues and the ensuing trips to the doctor can be saved if there are no allergens or contaminants contributing to health issues in the household.
The Time Taken for Upholstery Cleaning Brisbane
Our upholstery and couch cleaning teams work hard to deliver all the requested services in the pre-decided time. These are some factors that determine the time that would be ultimately necessary for cleaning out any upholstery in the best and effective manner possible:
The size, dimensions and weight of the sofa
The number of cushions or upholstery on the sofa
Material and make of the couch upholstery
The condition and issues in the couch
Fabric Couch Cleaning Brisbane
Fabric couches and sofas look very elegant but they can be hard to maintain. Their colours can get dull or even fade out with daily usage. If there are kids also in the property, their activities can also ruin its condition. Additionally, if there are pets also in the property, their dander and fur can get trapped inside the seams making it dull and unclean. Spotless Upholstery Cleaning Brisbane has professional solutions for fabric sofa cleaning and maintenance. Call us today to schedule an appointment to have your home or office fabric sofas cleaned from the experts.
Recliner Couch Cleaning Brisbane
You are on the right page, if you also have been on the lookout for a professional couch cleaner for your prized recliner. Recliners make the place look more appealing and sophisticated than any other couch variety. We have a range of upholstery cleaning services for recliner sofas. Our cleaners are equipped with a number of tools and appliances necessary for cleaning and servicing recliners. Our machinery can reach the innermost portions of the recliners and remove the dirt and grime from such parts effortlessly. Hire us and experience the difference immediately!
Microsuede Couch Cleaning Brisbane
Microsuede couches do not just look stylish but are also easier to clean and have them in a spotless condition for a longer period. This fabric is such that it is made to fend off stains and does not house grime, filth or dirt particles. You can clean it at home from time to time following the guidelines given by the manufacturer. However, our couch cleaning experts can provide you with a more professional clean. Hire our team for the proper and professional maintenance of your microsuede sofas and couches.
Couch Mould Removal Brisbane
Mould growth in any part of your home is dangerous for the household. Similarly, mould growth in couches and upholsteries is extremely harmful too. Even a small amount of moisture can ruin the couch and also give rise to health concerns and disorders in the household. It is unsafe to opt for DIY methods to deal with the mould removal by yourselves. Get in touch with our upholstery cleaning experts to have the ugly and harmful mould spots from your couches removed via professionals.
Process Used by Spotless Upholstery Cleaning in Brisbane Cleans Lounges
Sofas and couches today are available in different fabrics and makes. Thus, their cleaning and maintenance techniques differ too. We have sofa and lounge cleaning experts who are familiar with different cleaning approaches necessary. This is the process followed by our lounge and upholstery cleaning experts:
Inspection of Sofa – The lounge cleaning team assigned to your property and conducts preliminary inspection of the sofa. They do that for finding out the make, type and material of the sofa as well as any stains, holes or damage.
Stain Treatment – A stain removal product is then applied onto the stained area. This helps in taking out old and stubborn stains effectively from the upholstery in time before continuing the upholstery cleaning.
Upholstery Treatment – In this step, the team applies hot water extraction, steam cleaning or dry cleaning procedures for cleaning the upholstery cleaning.
Fast Drying – The upholstery is then dried out using natural air, fans and air movers. Our drying equipment facilitates faster drying. Our upholstery cleaning expert make sure every drop of moisture is taken out at the end of the upholstery cleaning.
Repeat Inspection -Finally, the team then ends the upholstery cleaning by conducting a repeat inspection which helps them find any untreated spot or an area left to be cleaned.
The Properties We Service in Brisbane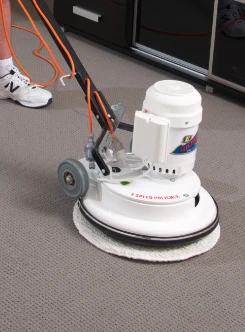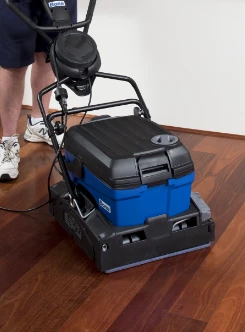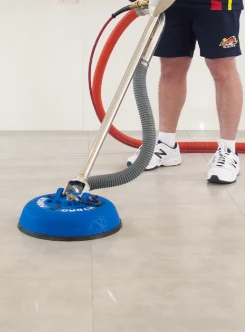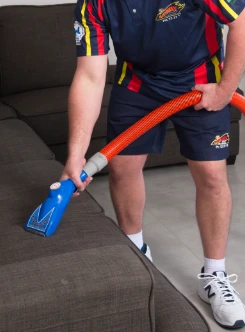 Why Choose Us?
Mentioned below are some factors What Makes Spotless Upholstery Cleaning in Brisbane Different:
Our upholstery cleaners and teams use innovative and modern equipment to get the work done.
We have teams that are aware with regards to the usage of eco-friendly upholstery cleaning products that are safe for the planet as well as the fabric of the upholstery.
We work hard to provide 100% customer satisfaction and value-for-money.
The upholstery, couch and lounge cleaning services are economical and pocket-friendly.
We do not add any hidden charges to your bill.
We guarantee the best and 100% perfect Sofa Cleaning Brisbane Results.
Location: Brisbane QLD, Australia
Hours
Monday

5:30am–11:30pm

Tuesday

5:30am–11:30pm

Wednesday

5:30am–11:30pm

Thursday

5:30am–11:30pm

Friday

5:30am–11:30pm

Saturday

5:30am–11:30pm

Sunday

5:30am–11:30pm
Phone
Frequently Asked Questions
Q1. Is it worth to invest time and money in professional upholstery cleaning services?
Upholstery cleaners have the equipment to detect and remove unseen and hidden contaminants from couches, sofas and upholsteries. Hiring them once every year is the best way to ensure clean upholsteries.
Q2. How do professionals clean upholstery?
We as upholstery cleaning professionals have better familiarity with a variety of upholstery cleaning techniques including dry cleaning, steam cleaning, shampooing, hot water extraction and more.
Q3. How can you clean upholstery by yourselves?
It is not advisable to clean any upholstery by yourselves as home-owners may not be aware of different cleaning methods, products and techniques which are known to professionals.
Q4. Can baking soda be effective to clean upholstery?
It is effective for cleaning upholstery but only a professional upholstery cleaner can guarantee great and accurate results.
Q5. What is the easiest way to clean your upholstery?
Mix white vinegar and dish wash in a bowl of warm water. Dip a cloth in it and begin cleaning the upholstery with it. Reach out to Spotless Upholstery Cleaning in Brisbane for more professional and lasting solutions.
Q6 Is steam cleaning a better cleaning technique for upholstery?
The moisture content in steam cleaning makes it an effective technique as it is able to pull out a lot of dirt and dust from the upholstery easily.
Q7. How regularly is it necessary to carry out upholstery cleaning?
Professional upholstery cleaning should usually be carried out once a year. More frequently if there are pets living with you in your property.
Spotless Upholstery Cleaning: Perfect Care and Public Liability Insurance
Experience the unbeatable combination of cleanliness and security with Spotless Upholstery Cleaning. We are a Melbourne-based Company and offer exceptional services backed by a $20 million public liability insurance coverage. Plus, our expert cleaners are fully qualified and licensed (License No. Aus 665595).
Experience the extraordinary today!
PremierGuard™ & Scotchgard™ Fabric & Upholstery Protector in Brisbane
We are experts at restoring your furniture to its original condition and shine. We offer Premier Guard™ & Scotchgard™ Fabric & Upholstery Protector for commercial, residential, industrial, and retail spaces.Our services include:
Loveseat sofa cleaning and protection
Chesterfield cleaning and protection
Lawson-style sofa cleaning and protection
Chair cleaning and protection
Bridgewater couch cleaning and protection
Camelback couch cleaning and protection
Cabriole couch cleaning and protection
Divan couch cleaning and protection
Chaise lounge cleaning and protection
Settee sofa cleaning and protection
Sleeper sofa cleaning and protection
Bunk bed sleeper cleaning and protection
Mid-century modern couch cleaning and protection
We use the latest technology and methods to clean and protect your furniture. We also offer a satisfaction guarantee, so you can be sure that you are getting the best possible service.Contact us today to schedule a consultation and learn more about our services.